Contribute to the Safety of Communities Across NSW

HOBAN Recruitment has partnered with NSW State Emergency Services (SES) to recruit for a several roles across NSW to support its effort to provide critical community response to people in need.
Current Opportunities with NSW SES
Why work with NSW SES?
The NSW SES employs a range of people with a variety of skills and varying backgrounds. NSW SES is the perfect organisation to develop your career while supporting your local community. The corporate areas available with NSW SES include positions in the areas of:
Corporate planning
Media and communications
Community engagement
Research and planning
Finance
Operations (response, hazard management, mitigation)
Information technology
Infrastructure (e.g. fleet management)
Volunteer support
Human resources
Learning and development
Executive services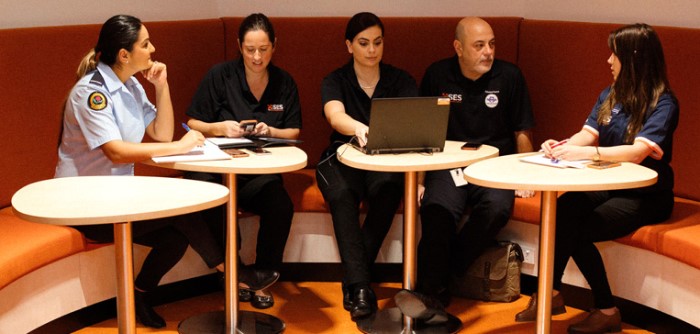 Work for an organisation that is focused on supporting you
The NSW SES is committed to providing a safe, flexible work environment where the contribution of all staff is valued. These initiatives range from promoting workforce diversity, flexible work practices, training and career development and great pay and conditions.
NSW SES is committed to providing a workplace that is equitable, diverse and culturally inclusive, through the effective implementation of diversity and inclusion principles. NSW SES is also committed to providing a workplace that is free from bullying, unlawful discrimination and harassment. The strength of the workforce in NSW SES lies in its diversity and embracing difference, with the key to their success leveraging the contributions of employees with different backgrounds and perspectives.
About NSW State Emergency Services
NSW SES is an emergency and rescues service dedicated to providing assistance to communities across NSW. The NSW SES network provides emergency assistance to the people of NSW 24 hours a day, seven days a week, 365 days a year.
NSW SES workers come from all walks of life bringing with them many different skills, interest and backgrounds. What unites them all is the purpose of supporting their communities in times of need.
The major responsibilities for NSW SES are for flood and storm emergencies, however the service also provides the majority of general rescues efforts in the rural parts of NSW. This includes road accident rescue, vertical rescues and bush search and rescue.
Current Opportunities with NSW SES
The benefits of working with HOBAN
HOBAN offers a weekly pay cycle.
We work with hundreds of clients in Australia and seek to partner with you to find your next role following completion of succesful assignments with us.
Not what you're looking for?
Register your interest to be connected to opportunities when they are available by clicking the button below. Once you have registered your interest, your local HOBAN Recruitment consultant will contact you to discuss employment opportunities.