Struggling to find your next hire?
You are not alone. I've never seen the market so busy or pick up so quickly as it has done in the first have of 2021- and that means good people are in high demand. With their access to talent networks, recruiters can undoubtedly help connect you to these people. But even the best recruiter has to have some compelling reasons to generate the interest of top talent. Your organisation and the role you are recruiting for has to 'speak' to your target hire and stand out from the crowd.
Before going to market, you must consider what your ideal hire is like and what is important to them?
Job Security
Given the massive impact of COVID in 2020, many people are reluctant to move from their current roles – especially if their current employer offers a sense of security or stability. Job security is in fact the top priority for job seekers in the current market and it's easy to understand why when we look at the impact to some businesses or sectors and what happened last year.
So how can your organisation provide reassurance to someone you are looking to hire?

Take a moment to reflect on what value you can demonstrate to your prospective hire to join your business. Some aspects to think of might include:
Are you a family business that has many years of successful history?
Are you part of a state based or national organisational or global brand that is a household name?
Or perhaps you are a new business in a dynamic market hiring new talent because of the pace of business growth?
It is essential that your new hire identifies with your brand and understands why you are looking to hire.
Salary Package
Let's talk salary first. At the start of 2021, HOBAN asked over 400 of Australia's leading companies in our annual Workforce Trends Survey about general staffing trends, including salaries. We found that despite the impacts of COVID, 60% of businesses anticipated an increase in salaries up to 4% over the next 12 months. While at the same time 72% of businesses find they don't need to pay more than they initially planned to attract the right candidates.
Sure, you need to be in line with the market and your recruiter will be able to give you advice regarding current remuneration in your field and location. But contrary to the ABBA song, it's not all about 'money, money, money'! In fact according to SEEK.com, salary is the 5th reason why people leave their jobs. So salary doesn't need to be the number one draw card to your role if your work environment, team, development opportunities and other benefits are attractive to potential candidates.
What is unique about your business or what can you offer a new hire?
What are the benefits of the position you have on offer? If you offer any particular projects, technology or opportunities for your new hire to develop and learn, it is essential you share that with your recruiter or provide details in your advertisement to make that really clear.
On the other hand, if your position involves regular or repetitive activities, it is important to emphasize that routine as it will appeal to applicants seeking predictability and consistency.
What is the career path?
Motivated people want to achieve and grow. If you offer access to training and a development plan, it is essential you share that in your hiring process. Don't wait until the interview, or you may never get to meet the best candidate for the job!
How is performance recognised?
Do you celebrate performance or recognise achievements? In our business we celebrate each person's anniversary with a red rose for every year of service (I'm up to a substantial bouquet now!) and a Montblac pen and designer bag at major milestones. It's our way of recognising longevity and consistency of service delivery in a personal way. It is important to share your values up front.
What flexibility do you offer?
These days this is essential. Since the lockdowns in 2020, there is almost an expectation that people will be able to work from home for at least part of their week. And of course, in some locations that has become quite a regular occurrence – even as I type from lockdown in Melbourne! Work life balance has been in the top 3 priorities for the majority of applicants for many years, so do be sure to express how you offer that to your employees or potential new hires.
Even the little things can make a huge difference…
Do you have a lunchroom or somewhere your team can store their shopping if they pop out to get some groceries during a break? Is your organisation easy to get to? Is there parking on site or close by? How close are you to the station or bus stop?
Are there bike racks, showers and changing facilities available – or perhaps even a gym next door?
Does your workplace have break out areas or is it modern and bright? Include photos or a video to really engage your audience.
Make connections count
Do you host regular social events? If that's a no, then how about morning teas or drinks on a Friday evening?
Help your ideal candidate picture themselves in the position and playing an important role in your team. Do you have testimonials of current employees highlighting why they love working for you? Do you have a diverse workforce, or can you mention your inclusive workplace culture?
These attributes all help prospective hires understand more about your organisation and your values.
I hope these tips are helpful when you next go to market to find your new employee; if you would like any further information or are struggling with a position that is hard to fill, please reach out to me directly at any time on 0403 062 322.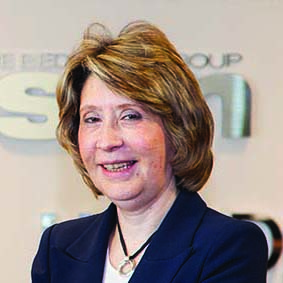 Alison Watts
CEO