HOBAN's National Sales Manager, Andrew Green, reviews the state of the national labour force for July 2021.
Australia's unemployment rate dropped to 4.6% in June 2021, reports ABS
The lowest unemployment figure in almost 13 years
More people giving up on finding work due to 'economic reasons'
It's that time of the month again where we see updates that give us an insight into the state of employment across the nation with the release of both The Australian Bureau of Statics (ABS) Labour Force survey and SEEK Employment Report for July 2021
They both made for an interesting reading however, they did take some time to digest and interpret. As you can appreciate while you read this, we find ourselves navigating an ever-changing (and sometimes contradictory) climate.
First, let's analyse the recent update from the SEEK Employment Report for July 2021.
At the national level, it's not a surprise to see that rolling lockdowns and restrictions across the nation saw SEEK post a 4.1% decline with month-on-month ad postings.
Job posting on the platform for July was up an impressive 67.9% last month when compared to July 2020 and applications per post job ad continued to grow for a consecutive month, up by 2.6% compared to last month.
When looking at the state level, it's interesting to see where the changes are at locally. Victoria remained the only state to see an increase in job ads (4.5%) compared to June, where all other states and territories saw a month-on-month decline.
New South Wales also was the only state to see a decline compared to the same month in 2019. Given the extensive lockdown in and around Greater Sydney, it's not a surprise to see the negative impact on job availability for the region.
Next up, we'll look at the key statistics collated during the period by the ABS:
Unemployment rate
Decreased to
4.6%
Employment
Increased to
13,156,400
Participation rate
Decreased to
66.0%
Monthly hours worked
Decreased by
3,000,000
Underemployment rate
Increased to
8.3%
Employment to population ratio
Decreased to
62.9%
Data obtained from ABS 'Labour Force, Australia July 2021' Released 19/08/2021
https://www.abs.gov.au/statistics/labour/employment-and-unemployment/labour-force-australia/latest-release
In terms of employment type, it's interesting to see that full-time employment decreased by 4,200 to 9,012,600 people, and part-time employment increased by 6,400 to 4,143,800 people (in seasonally adjusted terms). Overall there was only an additional 2,200 people gaining employment.
This could be a reflection of the impacts of the start of the strict lockdown in Greater Sydney in July – taking into account the statistics omit people that are no longer looking for work. You can appreciate that the situation in Greater Sydney and New South Wales is going to show a continuing of this trend into this month's reporting period.
The chart below highlights the changes in monthly hours worked across the country indexed back to March 2020. We can see the varying performance of different states and territories around Australia as they navigate the changing employment climate with rolling lockdowns and other restrictions.
NSW has had a substantial drop in the number of hours worked in a month to the tune of 40.5 million hours between June and July this year – a very significant decrease in hours worked.
As the tale of two cities was true last month, Victoria saw a bounce back to increased monthly hours showing the bounce back from previous lockdowns. It will be interesting to see the results of this in next month's reporting based on the state falling back into lockdown.
Monthly hours worked index, states and territories, seasonally adjusted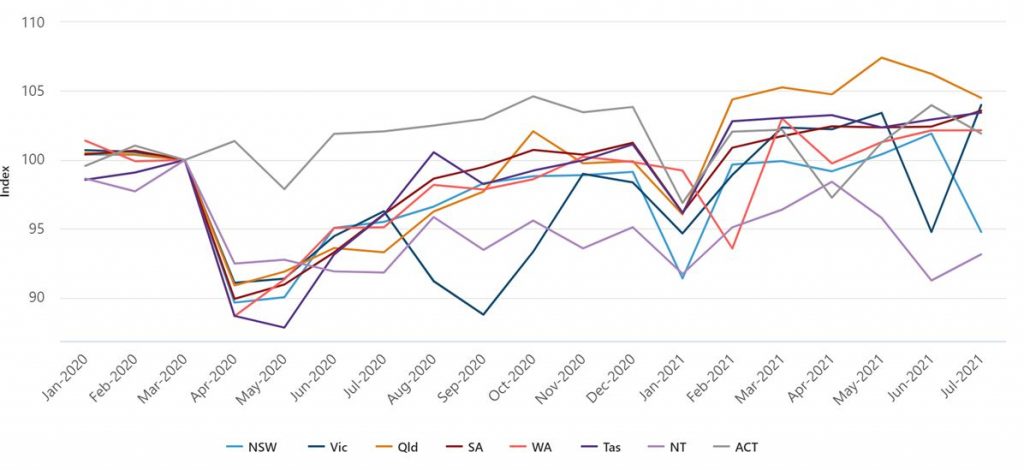 Chart obtained from ABS 'Insights into hours worked, July 2021' Released 19/08/2021
https://www.abs.gov.au/articles/insights-hours-worked-july-2021#states-and-territories
The ABS gives context to the difference between the high drop in monthly hours however still seeing a lowering unemployment rate. People taking annual leave, holidays, LSL or other leave coming into 1,328,200 and 'other reasons' at 577,900.
However, the most interesting report is 646,000 people are were not in the workforce for 'economic reasons'. The ABS defines economic reasons as "…people reporting having no work, not enough work or being stood down". The chart below shows the increase in the reduction of monthly hours due to 'economic reasons' spiking from June into July at the national level.
People working fewer than their usual hours, or no hours at all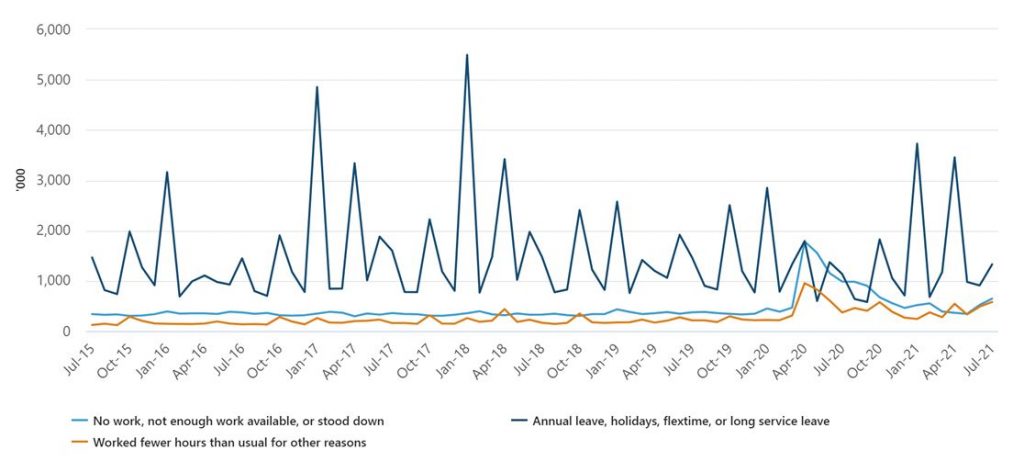 Chart obtained from ABS 'Insights into hours worked, July 2021' Released 19/08/2021
https://www.abs.gov.au/articles/insights-hours-worked-july-2021#people-working-fewer-hours
Putting it all together – what does it mean?
Reading the latest release for the Australian Bureau of Statistics (ABS) and the SEEK Employment Report my mind wandered to a classic piece of Australian Poetry from Monsignor Patrick Joseph Hartigan writing under the pseudonym of John O'Brien. He penned the classic "Said Hanrahan". Hanrahan is the classic country pessimist whose catchphrase is uttered to anyone within earshot Sunday after church
"We'll all be rooned," said Hanrahan,
"Before the year is out."
The figures were collected and collated during the period from 4 July to 17 July 2021 which coincided with lockdowns in the greater Sydney area and the end of the fourth lockdown period experienced by Melbourne. As of right now, the entire state of Victoria and areas in New South Wales are dealing with lockdown scenarios.
With our two most populated states encountering challenging commercial conditions presently hence we shall not have the counterbalancing effect.
"It's looking crook, said young O'Neil"
At which sedate remark
He squatted quietly on his heel,
And chewed a piece of bark."
…or is it?
The Australian economy has proved resilient it bounced back post initial COVID during the March quarter with the following outcomes:
The national economy grew by 1.1%
GDP grew 1.8% in the March quarter above expectations of 1.6%
The Australian economy was 0.8% larger than its previous record, prior to the bushfire crisis and pandemic onset in early 2020.
Deloitte Access Economics said at the time "…there were only five other reasonably comparable countries that could boast an economy bigger than it was prior to COVID-19."
So, how do we fair considering the above? From the perspective of HOBAN, we are above and beyond our pre-COVID levels for contractors engaged at host client sites. We have seen a sharp increase in permanent recruitment across all sectors and a dramatic increase in enquiries from new customers.
HOBAN is able to service our clients through our ability to support working remotely and recruit in a safe, contactless method applying the use of technologies contained within our IT system.
You'll need an agency that understands the market as well as we do. With over 50 years of local, proven experience, we are focused on providing custom staffing solutions that are right for you and your industry.
If you find yourself in need of any advice regarding the attraction of new candidates or need to take the next step with a staffing solution to grow your business please don't hesitate to contact me on the below contact details.

Andrew Green
National Sales Manager
andrewg@hoban.com.au | 0434 306 138