HOBAN Recruitment's National Sales Manager Andrew Green reviews the state of the labour market for October.
The unemployment rate increased to a six-month high to 5.2%
Thousands re-enter the labour market looking for work as lockdowns ease
Victoria had almost 50,000 job losses in September
October was the month for records, good and bad. Whether it's Melbourne ending a world-leading number of days in lockdown, or it being the record-shattering number of job vacancies posted on SEEK in its 23+ year history. A lot was going on.
Unemployment increased to the highest level over the last six months, with more people looking for work as restrictions and lockdowns ease across the nation.
With some great news for employers – there are now more people looking for work.
The national participation rate increased last month by 0.1 points with thousands of people re-entering the market looking for work. In a market where some employers are having to result to hiring robots in lieu of people, it's welcome news for labour-hungry industries.
Record jabs, record lockdowns & record jobs
As the Victorian premier promised, when the education state reached a rate of 70% fully inoculated for the eligible population on Friday 22nd October, more than five million Melbournians celebrated freedom after facing a combined 260 days of lockdown since the start of the pandemic.
Do you know what people want to do when they're out of lockdown? Shop, drink, eat and just have fun – and that's what they did.
This demand in both newly opened Victoria and New South Wales drove the number of job vacancies last month, particularly in hospitality & tourism, sports & recreation and customer service industries. This helped fuel the largest number of job vacancies posted on the SEEK platform in over 23 years.
SEEK continues to report record low rates of applications per job posting.
Despite the growth in job postings for Victoria, the state also was the bulk of job losses for September due to being in lockdown for three weeks of the month, with almost 50,000 people dropping from employment. How has this impacted the unemployment rate?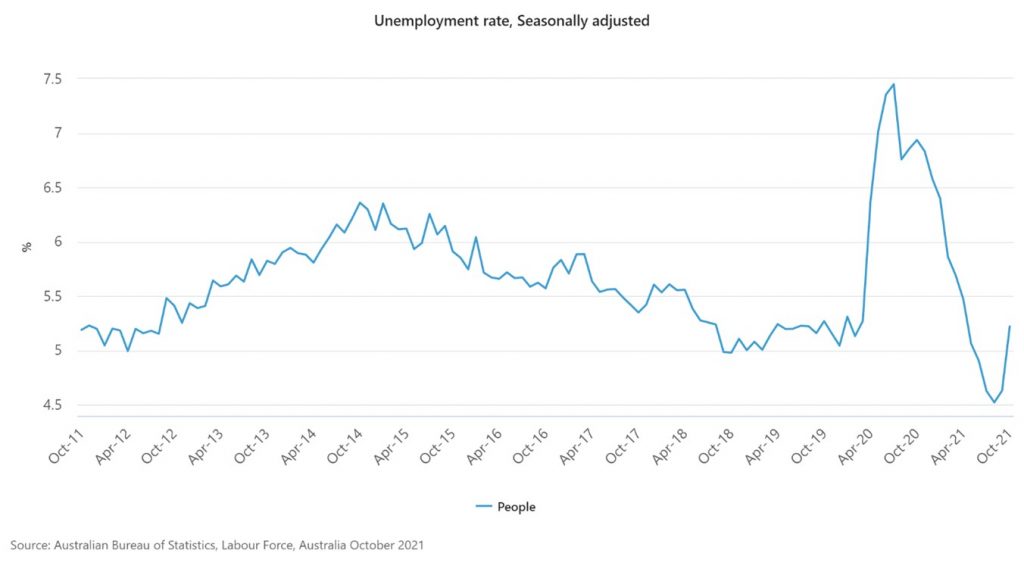 The above table from the Australian Bureau of Statistics shows that while the rate of unemployed people had increased compared to last month, its rate of 5.2% is still lower than compared to its average rate of 6.25% since monthly reporting started in 1978.
Let's have a look at the labour force in detail below:
Labour Force Snapshot – October 2021
Unemployment rate
Increased to
5.2%
Employment
Decreased to
12,835,200
Participation rate
Increased to
64.7%
Monthly hours worked
Decreased by
1,000,000
Underemployment rate
Increased to
9.5%
Employment to population ratio
Decreased to
61.3%
Data obtained from ABS 'Labour Force, Australia October 2021' Released 11th November 2021
https://www.abs.gov.au/statistics/labour/employment-and-unemployment/labour-force-australia/latest-release
Has the Great Resignation made its way to Australia?
Record available jobs, record low application rates plus lockdown-fatigued workers. Could this be a trend for the localised 'Big Quit'?
But what is the Great Resignation? Back in March this year, Microsoft released results from their research into workplace trends and found that up to 40% of the global workforce are ready to resign.
We've heard for months now about the record levels of people resigning from work across the pacific in the United States. For the fourth month in a row, a record level of Americans have handed in their resignation and called it quits in the millions.
It's possible that the Great Resignation might have made its way Downunder. Within the latest state of the nation, SEEK has released that up to 28% of Australian's are likely to consider changing their jobs within the next six months.
Next month we're predicting to see employment numbers rebound strongly off the back of the removal of most restrictions across Victoria and New South Wales. We believe this will continue up to and after when employers finally get access to international talent pools.
Finding it hard to find or keep staff? How HOBAN can help
We know that it can be hard for employers to find the right talent in this current market.
If you find yourself in need of any advice regarding the attraction of new candidates or need to take the next step with a staffing solution to grow your business, please don't hesitate to contact me on the below contact details.
You'll need the support of an agency that understands the local market as well as we do. With over 50 years of local, proven experience, HOBAN Recruitment is qualified to provide custom, scalable staffing solutions that are right for your business.