In today's competitive market, finding skilled and job-ready candidates remains challenging, especially for pharmaceutical, manufacturing and production recruitment. At HOBAN, we recognise the significance of having a well-prepared workforce adaptable to the demands of modern work environments. That's why HOBAN introduced Cleanroom Upskilling and Training, an innovative approach to training and readiness.
The HOBAN Recruitment Cleanroom Upskilling and Training Advantage:
Realistic Training: Our Cleanroom Simulated Environment is designed to replicate real-world conditions, providing candidates with hands-on experience in environments with stringent protocols. This immersive training enables staff to become intimately familiar with cleanroom protocols, Good Manufacturing Practices (GMP), critical industry standards, and client-specific requirements.
Job Readiness: With our upskilling and training programs, personnel are prepared and job-ready, seamlessly adapting to your workplace environment. This means you can save valuable time and resources by hiring staff who have already been tried and tested in simulated cleanroom conditions.
Comprehensive Modules: We understand that every business has unique needs. That's why we offer a wide range of training modules tailored to your specific requirements. Whether you need candidates skilled in compounding, packing, production, or other areas, our Cleanroom Simulated Environment has you covered.
Flexible Solutions: Whether you're looking to train new candidates from scratch or upskill your existing workforce, our Development Centre can be customised to meet your precise needs. We believe in flexibility, and our training programs can adapt to the evolving demands of your business.
National Approach: HOBAN's Cleanroom Upskilling & Training is currently available in NSW, VIC, and QLD. We have an outsourced solution for organisations in other states to ensure that our innovative training programs are accessible to you no matter where you're located.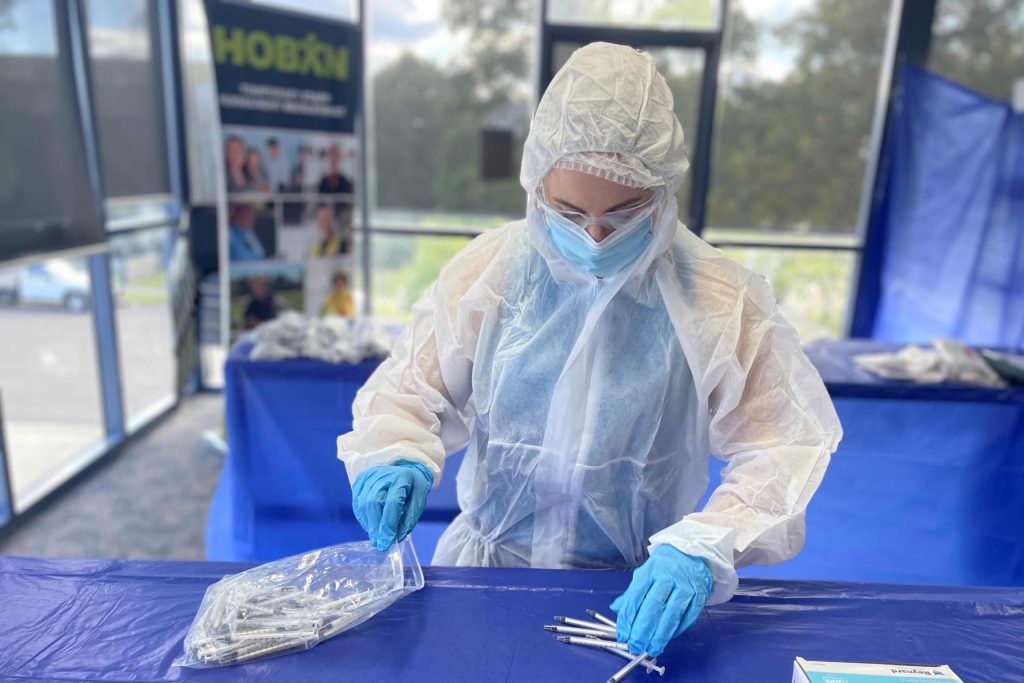 Case Study: Medical Manufacturer
One industry that has greatly benefited from HOBAN's Cleanroom Upskilling & Training is medical manufacturing. In this high-stakes environment that demands extreme accuracy, meticulous attention to detail, and physical dexterity, our client was faced with the challenge of attracting and retaining top-notch team members.
As part of our recruitment strategy, HOBAN designed a simulation of their "cleanroom" assembly line in our Development Centre. This allowed us to assess a candidate's ability to perform effectively in the specific environment required by the client.
Candidates undergo a rigorous evaluation process, which includes a manual handling assessment to gauge their physical lifting capabilities and techniques. Additionally, skills testing ensures that candidates possess high levels of attention to detail, rapid learning capability, and the ability to follow intricate instructions.
For those individuals who demonstrated desirable attributes such as a positive attitude, eagerness to work, and reliability but lacked the necessary skills, HOBAN's trainers developed comprehensive training programs to upskill them effectively.
What initially began as a backup supplier arrangement in 2013 has evolved into a national partnership. HOBAN now extends its services beyond recruitment, providing support to other business areas, including head office and customer service personnel.
Are you ready for an innovative and effective pharmaceutical, manufacturing and production recruitment partner?
If you're ready to discover the effectiveness of HOBAN's Cleanroom Simulated Environment firsthand, we invite you to get in touch with our team at NSWDDC@hoban.com.au or visit https://www.hoban.com.au/manufacturing-production-pharmaceutical-recruitment/ for more details.
Discover how HOBAN Recruitment can elevate your workforce through innovative solutions that ensure your candidates are job-ready from day one. Don't miss the opportunity to take your recruitment and training to the next level with HOBAN.