NSW POLICE FORCE
RADIO OPERATIONS GROUP
Communications Officer
Radio Dispatcher and 000 Telephonist
About Radio Operations Group
Radio Operations Group is a Police Radio Dispatch and Contact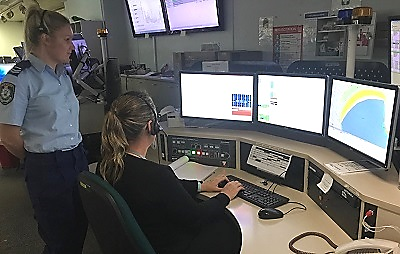 Centre providing a 24/7 quality service to the NSW Police Force and members of the community of NSW.
Communications Officers are responsible for tasking and coordinating activities of police resources responding to incidents, using both the police radio network and Computer Aided Dispatch (CAD) system.  The role also processes urgent and non-urgent telephone calls from both police and the community (including Emergency Triple Zero), and providing timely information to operational police to enable appropriate action to be taken.
Communications Officers are required to successfully complete training in both telephony and dispatch business streams.
Police Radio Dispatch and CAD
Communications Officers are responsible for managing and coordinating NSW Police Force resource responses to incidents using the Police Radio Network and the Computer Aided Dispatch system. This requires an ability to monitor multiple simultaneous pieces of information, prioritise and track resources, and make decisions under pressure.
Emergency Calls – Triple Zero (000)
Calls are received on a 24/7 basis from members of the community requiring assistance. Communications Officers receive, interpret and record calls that relate to life threatening or time critical emergencies to ensure the appropriate Emergency Service response.
Non-Emergency Calls
Communication Officers also answer calls from, and make enquiries with, Police Stations, other Emergency Service Organisations, and other support agencies and services.
Radio Operations Group Mission
To provide timely and effective radio communications to police to support a safe and secure NSW.
Radio Operations Group is part of the Communications & Security Command, reporting directly to the Assistant Commissioner. Radio Operations Group operates five sites located in Sydney, Penrith, Newcastle, Oak Flats and Tamworth. The five sites operate as a virtual centre staffed by approximately 500 personnel including both civilian and police Communications Officers, Supervisors, Trainers and Leadership Units.
Contact
Please contact the HOBAN Recruitment team with any enquiries.
Phone: 1300 235 084
Email: nswpolicerog@hoban.com.au
Please note that when calling the 1300 number you may need to leave a message for the team and your call will be returned during business hours.