The Australian Bureau of Statistics has released the latest numbers providing a picture of the current state of employment across the nation.
The ABS releases the latest Labour Force Survey results for June 2021
Candidate availability continues to be low, with the focus on employers to develop attraction strategies
Applications per job postings are still lower compared to historic trends
On Thursday, July 15th the Australian Bureau of Statistics released the latest numbers of the national workforce for the month of June. The ABS Labour Force Survey (LFS) aims to provide a macro view of the employment trends across the country such as the unemployment rate, participation rate and employment to population ratio.
The unemployment rate for June nationally came in at 4.9%, dropping 0.2 points from 5.1% last month. This rate continues the downward trend from the height of unemployment at the start of the pandemic in early 2020.
The continuing decrease of the unemployment rate, combined with the continued closure of international and (intermediately) state borders continues to drive trends in low candidate availability.
As highlighted by SEEK, in their recent Employment Report for June 2021, for the first time since the height of the pandemic the applications per ad metric increased for the first time. While a promising figure at face value, application numbers per ad still are far lower when compared to historic levels.
Labour Force Snapshot – June 2021
Unemployment rate
Decreased to
4.9%
Employment
Increased to
13,154,200
Participation rate
Flat at
66.2%
Monthly hours worked
Decreased by
33,000,000
Underemployment rate
Increased to
7.9%
Employment to population ratio
Increased to
63%
Data obtained from ABS 'Labour Force, Australia June 2021' Released 15th July 2021
https://www.abs.gov.au/statistics/labour/employment-and-unemployment/labour-force-australia/latest-release
Over the 12 months, the competition for jobs has slowed and it's been more difficult than ever to find the right candidate. The below graph from SEEK's Employment Report for June mirrors this point that job seekers now have a wealth of choice with not a lot of competition. This really drives home the point that now more than ever, it's important for businesses to drive their employee value proposition. Simply put, what are you doing to attract new talent while keeping the people you have?
HOBAN's CEO Alison Watts recently explored the importance for employers to consider what their ideal candidate is and what is important to them. In this current market, employers need to demonstrate their value far more than just simply their compensation offering.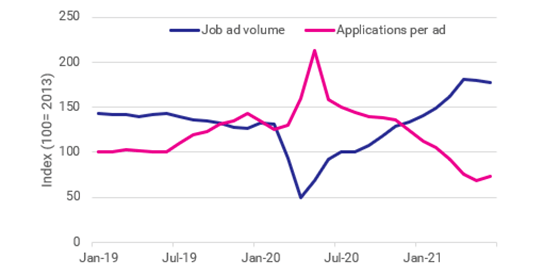 National SEEK Job Ad volume compared to average applications per ad – January 2019 to June 2021
SEEK Employment Report – 2021
Opinion on the market – from HOBAN's National Sales Manager, Andrew Green
The continuing fallout from the COVID-19 pandemic, and how government legislation and policy is influenced by it, continues to apply pressure points across all sectors and industries. We see the issue of low candidate availability being something that will be continuing for the foreseeable short term. This being driven by the Australian economy continuing to rebound from the effects of the pandemic, while not having access to international talent pools.
HOBAN believes the most critical factor in this type of market to secure top talent is by demonstrating the value you – as an employer – can provide to your next prospective (or current) employees. You need to give them a reason to work for you, otherwise, there is a wealth of opportunities out there.
If you find yourself in need of any advice regarding the attraction of new candidates, or need to take the next step with a staffing solution to grow your business please don't hesitate to contact myself on the below contact details.
You'll need an agency that understands the market as well as we do. With over 50 years of local, proven experience, we are focused on providing custom staffing solutions that are right for you and your industry.

Andrew Green
National Sales Manager
andrewg@hoban.com.au | 0434 306 138